Guatemala is home to some of the most passionate, neurotic (in the most affectionate way I can express), and talented coffee producers I know. Raúl is one of them. The first time I met Raúl was in 2012, at the tail end of the Cup of Excellence (COE) in Guatemala City (a competition for producers, who's top scoring lots go to an international auction). As the final tables were completed and the international jury was wrapping up for the week, there was one last thing to taste – There were a couple of things on the table, but one stood out as being so good it could have given the COE winner a run for its money. It was what's known as H1 (Centroamericano), a cross between a selection of a Sarchimor (Parainema is a Sarchimor btw so those of you who have tried Rootbeer Float have a sense of what that might taste like) and the Ethiopian landrace variety Rume Sudan. It was so floral and zippy and creamy. The excitement of flavour from an ancestral variety, with the sturdiness and disease resistance of a Timor hybrid. It was delicious.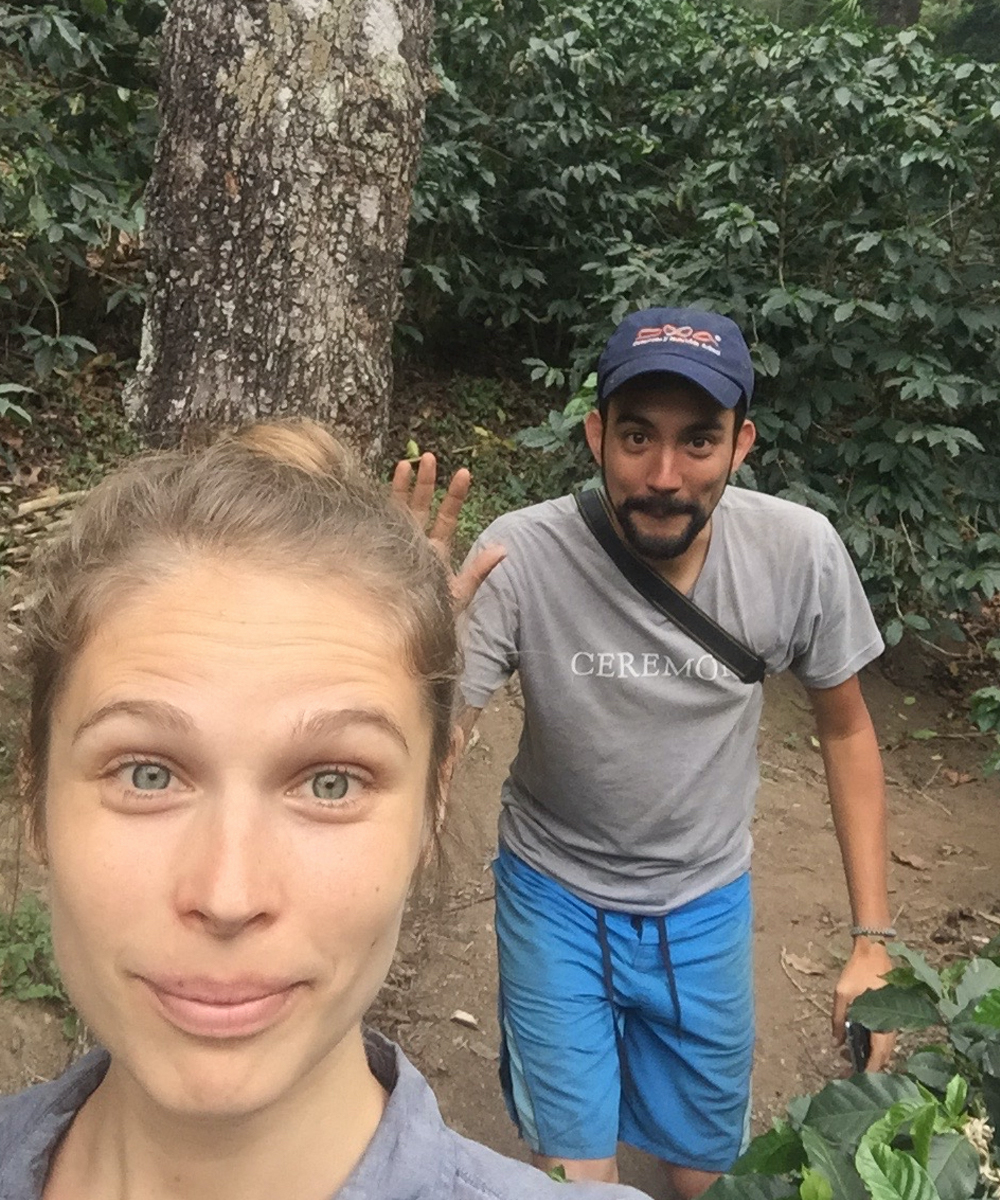 It was also a total experiment. This H1 cross is an F1 hybrid, meaning it's essentially a cultivar in training – it takes 7 generations for an F1 hybrid to become stable enough to take seeds from an existing plant, and know you're likely to get the same result. Anacafe, who is the coffee association of Guatemala was looking for curious guinea pigs, and the Perez' were game. In a country where most producers tend to hold fast to the way things were, embrace tradition, some are ok to test the boundaries and slowly answer all those what-ifs (what if we plant this variety? what if we space the trees further apart? what if we process differently?).
None of this is a surprise by the way – With both his mom (Mercedes) and his dad (Henio) growing up as coffee producers themselves, and their parents too, coffee is something that has been the fabric of their livelihoods for multiple generations. The rarity for the entire family, though, is their collective willingness to roll with those what-ifs and see where it might lead.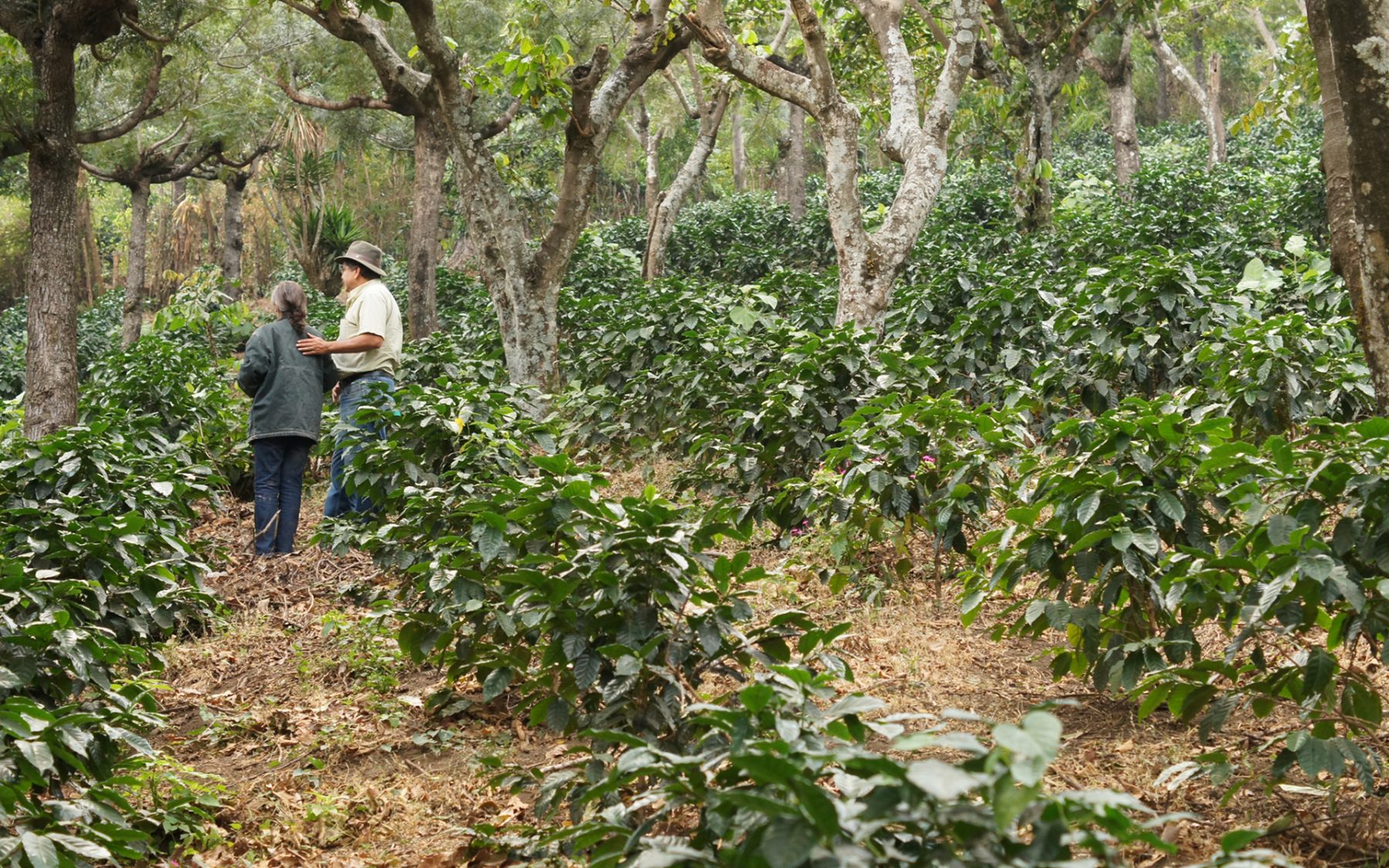 The first what-if was in 2006 (the same year that Acatenango was recognized as a distinct coffee region) when the family realized that they could circumvent the volatile c market, brokers, and other resellers and instead sell everything directly to a few roasters. Intelligentsia was their first (what was introduced as "direct trade") partnership, and other roasters (George Howell, later – Coffee Supreme of Australia and others) were wanting to work with the Perez family too, all with their main farm called La Soledad. The road this led the family down was one that they've expressed to me and Nate as a point of serious pride through the years – They knew they had buyers they could count on. They could now turn their focus to other what-ifs, other projects. We understand that feeling as a small maker ourselves.
From deep dives into soil health, vermiculture, slowly introducing the idea of cultivating an ecosystem rather than just a coffee farm in isolation – Raúl and his younger brother José are driving those changes as they continuously try to outrun the effects of climate change.
What you have in your cup is another what-if turned to reality. A few years ago, back around 2016, Raúl's uncle was wanting to get rid of a small farm around 10km away from La Soledad. The family wanted to take it over and decided to go for it. What's resulted is a farm in a totally different microclimate, and looks like a ribbon weaving and twirling up the mountain slope, topping out at close to 1800meters. This lot is specifically Caturra and Bourbon picked from the middle of the harvest and taken to La Soledad where the wet milling equipment is to carry out the processing. After being depulped of the fruit it sits without water just a bit longer than overnight before being washed off the loosened mucilage and dried on raised beds with lots of airflow to dry slow and steady. This is a gorgeous example of a top lot coming out of Acatenango.
The latest what-if affects this lot directly – Due to covid and the increasing challenges around booking ocean freight, Raul suggested we could try using air shipping instead. Anacafe negotiated a nice rate with fedex, and with everything so delayed, it meant that any way we could generate some cash flow would be welcome. So we went for it and it was so quick. It was our first time paying a producer directly*, and for Raul it was the first time being paid directly from the roaster. We both thought it was awesome. For larger lots, air freight might be out of reach, but for this instance, it worked out great.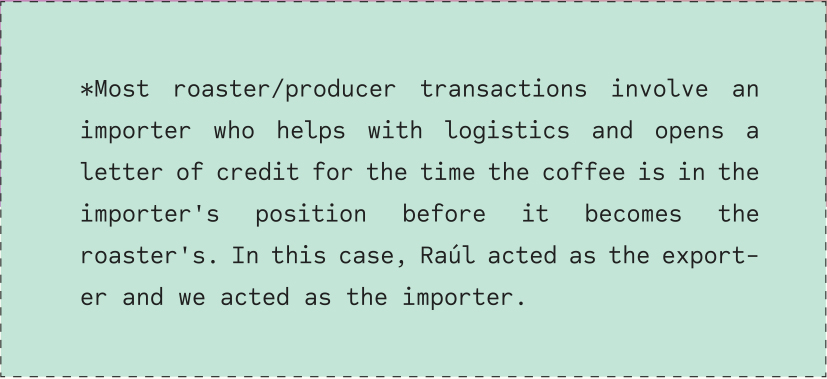 This coffee is perhaps a bit of a departure from our usual lineup (we're fruit acid fiends through and through), but as we head into work/ school and uncharted territory, having something a bit comforting yet still very much on the light side, is something we're enjoying very much. It's got a buttery, hazelnut flavour and this orange brightness.
-lp